Approach
A designer should be able to empathize with people from various knowledge areas; I suppose every designer develops multiple "personalities" encompassing the overall skill of each designer. Being able to switch between these personalities at the right time in the design process is an essential characteristic for a designer.
The Researcher
I read a lot. Some things might never become useful, but serve as filling material in an ever-growing bag of experience. Especially when dealing with an unfamiliar context, tt's important to have this "established base" of knowledge and experience; I often refer back to things I did, or I have seen other people do. I have a tendency to dive into things that at first glance don't have an immediate purpose, to refer back to it when I have a concrete concept to work on.
Second, I am able to abstract knowledge into theories. These theories can serve as the basis for design decisions or form the heart of a research paper, as I have done alongside my graduation project1.
[1] Fens, P., & Funk, M. (2014). Personal Health Data: Visualization Modalities and Their Perceived Values. In Proceedings of WSCG 2014. Plzen.
The Data Scientist
Being able to process data sets in search for interesting opportunities. Data visualisation frameworks such as D3 and Processing allow me to visualise datasets on-screen quickly, allowing for quick insights in complex data sets.
Furthermore it is about understanding data structures from a technical point of view, but also from a user's point of view; bridging the gap between what users want to know and how this should be achieved from a technical point of view
[1] Tufte, E. R. (1990). Envisioning Information. Graphics Press.
[2] Victor, B. (2013). Drawing Dynamic Visualizations. Stanford University. Retrieved from https://vimeo.com/66085662
The Interaction Designer
Interactive systems have just one goal: to allow for positive experiences. They need to serve people and therefore the interactions in such a system should be tailored to provide a positive experience.
It is my task to find out what people want from a product. I familiarized myself with methodologies that create insights on various levels. Group interviews and in-context immersion allow for fast and often unanticipated insights. This information can then be used to create realistic archetypes of users and their needs.
Interaction is key when creating meaningful experiences. It therefore should be meaningful as well. I believe that Natural Interaction is a step towards creating meaningful experiences with products. Products like the Leap Motion and Kinect being able to track movements and translating this to on-screen interaction. This kind of interaction is inherently richer than our mouse and keyboard interactions, to which we have grown accustomed over the past decades.
The realistic prototyper
I believe that being able to produce high fidelity prototypes allows user to genuinely experience a design, resulting in more valuable feedback. I have experience in creating 3D printed components from Shapeways and designing electronic circuits for prototyping purposes. This is complemented by my experience of various programming languages to fine-tune the interaction of the product from a software perspective.
Identity
Focus on Data Driven Experiences
Throughout the years I have developed myself by working on a variety of projects. A selection of these projects contained recurring themes that I can personally identify with. I want to propose an overlapping term for these projects, namely "data driven experiences". These are products and systems that are designed to work with or give meaning to data. A couple of examples of such products and systems from my work: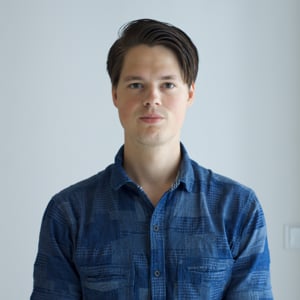 Vigilo
Vigilo uses sleep data to keep people with chronic sleep disorders awake during the day, by making them aware of their skin temperature cycles during the day. This project has overlapping elements with Qualica, such as the wearable form factor and digital health theme. →
Roots
Using genealogic data to make elderly and their children explore their family roots together.
Big emphasis on experience; the experience of browsing together, using dedicated controllers that you can easily share, and unfolding visualisations onscreen. →
Qualica
Using personal data sets as a source to make people more aware of their daily patterns. Qualica is an intelligent device which is able to display relevant data at the moment you need it most. Qualica is able to learn and interpret exactly these small recurring things and present them to the user at the right moments, in order to make life easier for users. →
The above products all have aspects related to data and user experience in common. I've taken these aspects and refined them into personal guidelines for Data Driven experiences:
1 Simplify access to complex data sets (Think health- or genealogical data)
2 Contain intuitive(natural) interaction or rich feedback systems to create unique user experiences. Examples of natural interaction are Leap Motion and Kinect; these will play an important role in creating unique experiences.
3 Looking critically at how data is visualised and/or physicalized; what data is important to the user in relation to the context?
Vision
In the future connectivity and data collection across products will continue to expand; the majority of people will have at least one "smart" product at home in a few years. These products vary from "wearables" to smart kitchen appliances and thermostats (Nest). This leaves me to wonder:
With this growing complexity of connected products and services, how is the average person going to deal with all this data?
The future challenge lies in "decomplexification" of data driven products; stripping systems down to reveal the users are interested in. I took this approach during my graduation project which resulted in Qualica; this product is able to intelligently select data that matters most to the users at a given moment. Withings has also completely stripped down an activity tracker to integrate it into a single hand of an ordinary watch, drastically reducing the complexity of tracking calories.
I am convinced data driven products can eventually make people's lives easier; every piece of data can help people become more sustainable healthy or even social. These are key areas where data can make a difference.
.